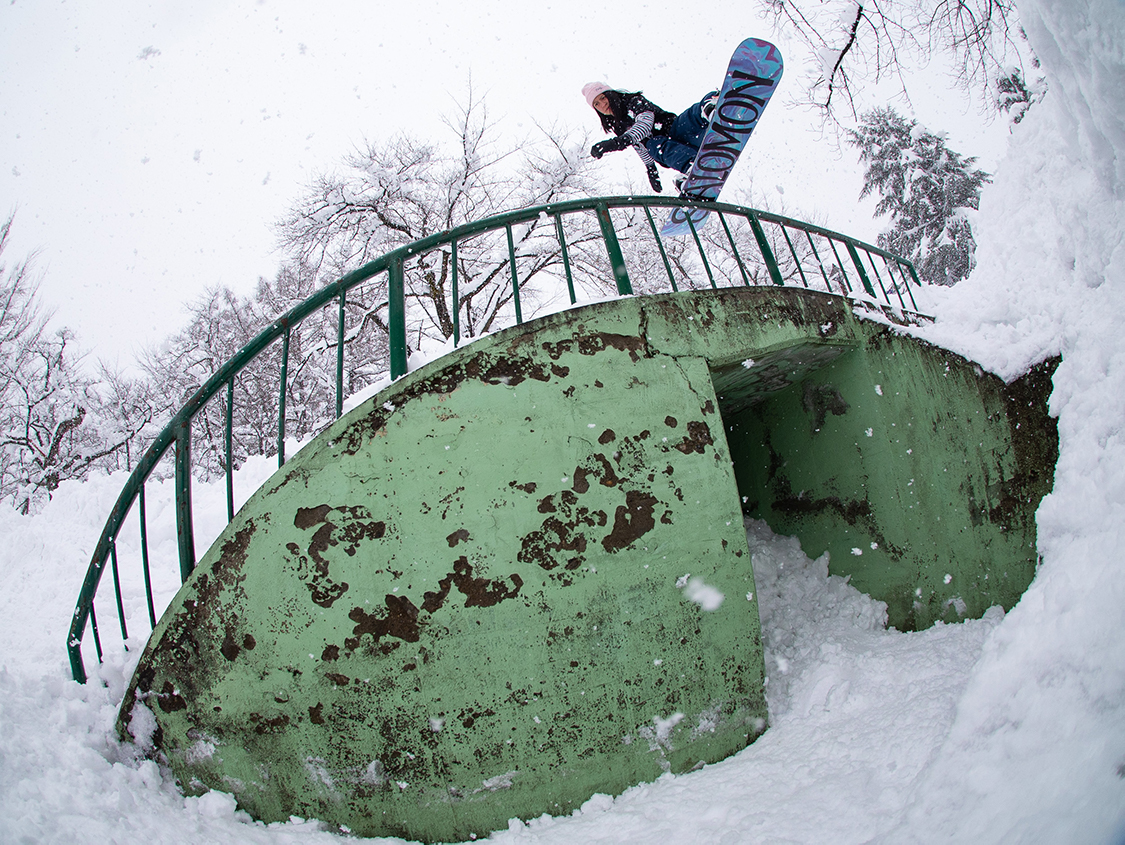 Nirvana's migration from Southern California park riding to the Wasatch aligns with how her tastes changed. Her video parts in Veer and Snowboarder Mag's Tangle have those creative and careful subtleties that she expresses in this weeks list, not to mention we have a Victoria sighting. We back Nirvana and we back this Top 5 hard.

Marie France-Roy – Rome Snowboards Any Means (2008)
Probably one of the all time best parts ever filmed. Back when snowboarders weren't as niched off. You just filmed all of it - pow, street, park. The Park footage in the part was super relatable for me growing up because that's all Big Bear and Mountain High had. Ginormous rainbow log. YES. That was pretty on par with the features in the early 2000s. My mind could not even comprehend what pillows or powder was at the time since a Mt. High pow day was 4 inches of snow. Not to mention the gap 270 she does in it. Psycho. AND the front 9 on the 100 ft jump she hits you don't see video parts like this really anymore.
Natasza Zurek – Misschief Films As If (2005)
As a kid growing up and even now as an adult I'm not really a loud extroverted type of person. But I remember so clearly watching an interview with Natasza where she was soft-spoken and talked about not being into partying and had a moment where I realized Hey I don't need to be a certain personality type to get somewhere in snowboarding. It really resonated with me and then on top of that she let her riding do the talking.
Victoria Jealouse – Standard Films TB8 - Infinity (1998) and any Burton movie that had clips of her
Remember the days when you were so excited to get a mag and find out who the center poster was? My room walls and door were plastered in anything I could get my hands on whether it be a surfer or snowboarder. I had Victoria's poster and it was her blasting off of a huge cliff grabbing indy. I thought "she's so sick AND she's goofy." Basically any movie I watched I would always look for her name. She made snowboarding look so good and even though steep powder filled mountains weren't what I was riding, I was just hyped to be a snowboarder because of her.
Jake Kuzyk – Videograss Mayday! (2014)
Best.Song.Ever. Wallie on the blue triangles. Snowboarding on things that aren't down rails, but also down rails. Hands down one of my favorite parts ever. I think that Kuzyk really showed that you could creatively snowboard on anything and things didn't have to be a traditional down rail to be exciting.
Mike Ravelson – Keep the Change Holy Smokes (2012)
Around this time I was figuring out that internet snowboarding was a thing. Sunday in the Park was coveted and web series were making change throughout the board world. The guys making Loonatics out on the East Coast made east coast riding look so fun. Rave's riding plus the music in KTC was impressionable to say the least. This part was a mixture of hammers on down bars, but also filled with creativity — through the Quebec plaza, wall redirects, and tubes.