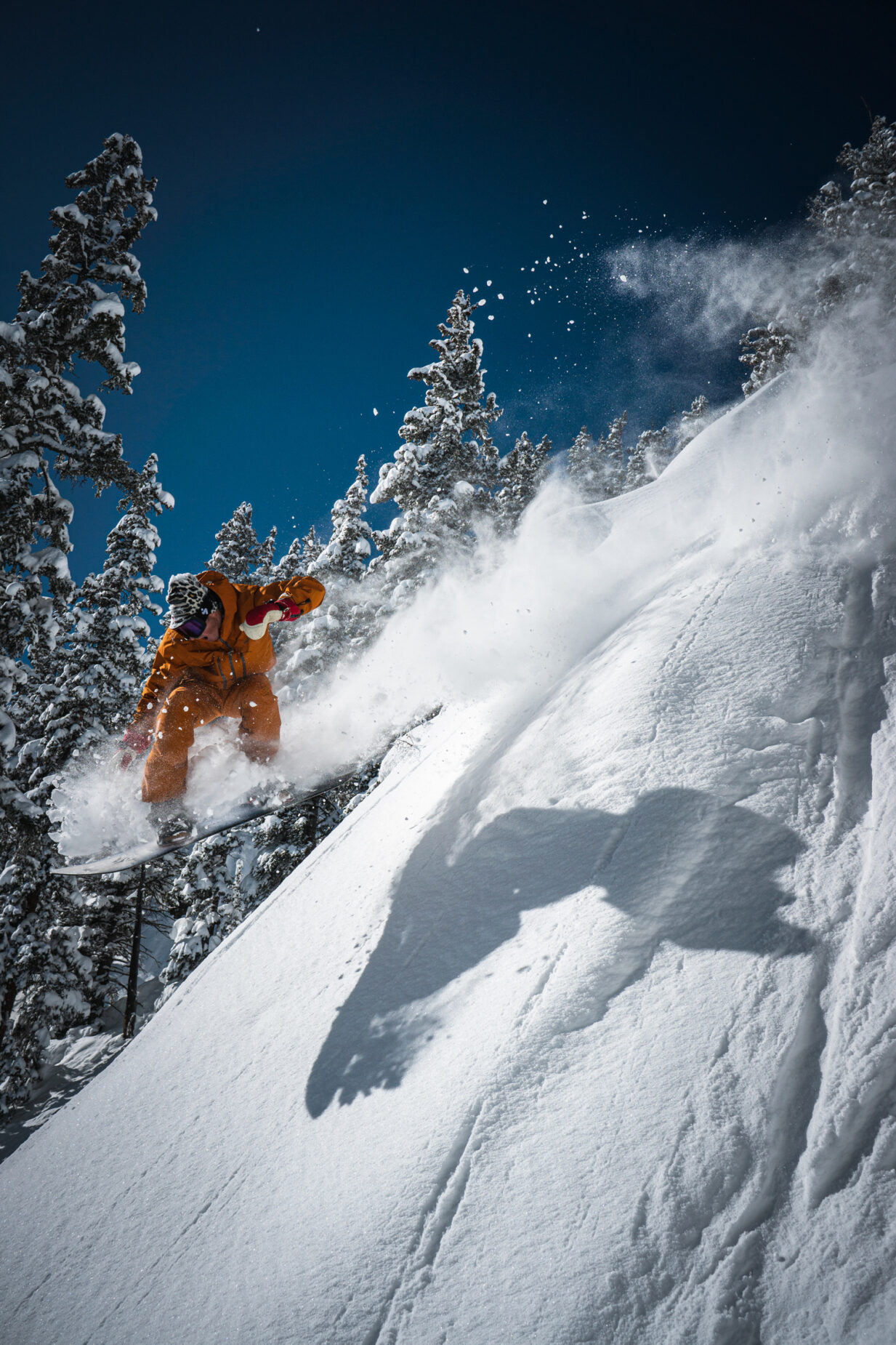 "Forrest, a man on the constant pursuit of climbing mountains and wiggling back down them. A selfish pursuit that many of us are severely addicted to, myself being guilty as charged. Forrest has been around the block in the snowboard world from riding hairball big mountain lines around the world to jumping chads gap, the dude has seen and experienced a lot. A man that has a passion for nature, and for that of classic snowboard video parts.  I believe these picks may want you to grab your splitty and run to the hills to ride that dream line you have always watched Tom Burt wiggle down via late night Youtube sessions." - Griffin Siebert

Ingemar Backman - Mack Dawg Productions' Melt Down Project (1995)
Ingemar's part: 21:51
The riding, the music, Moon Over Marin by Dead Kennedys.
I'd say this is the definition of snowboarding for me. Such rad energy. I always loved the way Ingemar poked his grabs and had a good trick selection. All the switch tricks and straight airs he did just stood out from the rest.
Also worth mentioning I think he filmed this segment in one trip visiting the states while shooting both a part with Whitey and Mack Dawg. During the mid 2000's, before I went down the trajectory of freeriding, I was focused on backcountry kickers, riding for Allian Snowboards at the time, Ingemar's company. He was phasing out of snowboarding at the time but I got to know him well, traveling to Japan for demos with Allian, and spending some time over in Sweden at Riksgransen. The location of "the QP method." Ingemar is still an insane snowboarder, skater, and poker player. If you ever go to Sweden you can find @Gorgzilla at Svanstein, a small ski resort he owns with Johan Olofsson. Pretty insane, those guy ride pow surfers these days and rip pow under the northern skies. 
Jeff Anderson – Kingpin's Back In Black (2003)
Jeff's part: 24:52
I remember this was such a good movie with heavy lineup. Jeff's whole part is unreal. I remember the riding he did in that video being so progressive at the time and still is today. Riding in that orange beanie and an Analog kit. Jeff was filming with Shane Charlebois, living down the street from Milo in Salt Lake, I think with Blotto. He passed away that same year. Gone too soon. He left an irreplaceable impression on snowboarding like many that have passed on.
Blair Habenicht – Absinthe's Ready (2008)
Blair's part: Gotta buy to find out
I don't watch a ton of full-length snowboarding films these days. Looking for inspiration elsewhere. Mainly surfing haha. Maybe thats why Blairs riding always gets me juiced to go ride the mountain. This footage and the music accompanied, perfect combination. This part has Wolle in it as well. 
Arthur Logo – iPhone Part Edited by Blake Paul (2018-2020)
It's just a compilation of iPhone clips of the GOAT from past couple years. Behind the scenes Landline stuff. I like this edit because it's raw and put together by Blake. Insane riding packed into 5 minutes. Blake is MVG, most valuable grammar. Always heater edits and clips. Any part of Arthur is going to be good and worth watching IMO. He just makes snowboarding look good. There's this clip in his Landline part that Jake shot. Airing into a line and does a turn to setup for the next air. Just really fluid and looks fun. Back to this iPhone part. The phone and instagram is usually where I see content these days. Really appreciate friends putting stuff together like this. Just makes me want to go shred.
Griffin Seibert – Backyard Boogie Töö (2021)
This is my current favorite part and film. Go watch it for free on YouTube.
Griff put the time in to make an incredible film on a Super 8 camera this winter. Just following around friends at Brighton and the Wasatch.  A simple formula. This is what we need in snowboarding right now. Getting into the backcountry, a session on a kicker, riding the resort, getting into the street, finding new spots and watching old films to re-find those classic spots. Just following your friends and pushing each other to go outside and get in the mountains. It's really whats it is all about. Yes progression will always be there in snowboarding, but right now we need to come together. We have this opportunity and moment to give back to the community and the planet. Being open to compassion. Theres really is no one way to go snowboarding. Doing what you feel is right is usually the best thing. Share it, celebrate it, and be the change for the future.

Honorable Mentions
Noah Salasnek – Riding Super Spines in Alaska
Noah's part: 24:02
Can't remember which TB part of his it's in (maybe TB2??) so I'll go with this— Best of TB, a milestone flick that has it all. Sick riding, acoustic guitar in the beginning. There's a couple OG goat ATV riders in this movie. Some classic 90's tunes as well. Noah's part in Alaska where he skate ollies the spine mid face? Text book sluff management in here.
Noah's film parts put a whole new perspective on things for me:
1. That it was even doable to ride big lines like he did safely and fluidly. Noah, Jones, TB, Johan during that time period was insane. They wrote the book for pushing into bigger mountains. 
2. To do it with style. Mind blowing riding by Noah. Whatever terrain, skate roots all the way through. 
Absinthe Films – Tribal (2000)
This was the first Absinthe Films movie. The film had such a good soundtrack, it had a major influence on me. Manu Chao, Althea and Donna (Uptown Top-ranking.) Find it if you can! Whole film his not online. Maybe VHS only?
Favorite part is of Michi Albin, riding in Tahoe. Song is Peace Frog by the Doors. Such an insane part, I remember he did this crazy frontside half cab to method move. Dude had the raddest style. Crazy moves and a really good crooked cop in the pipe.