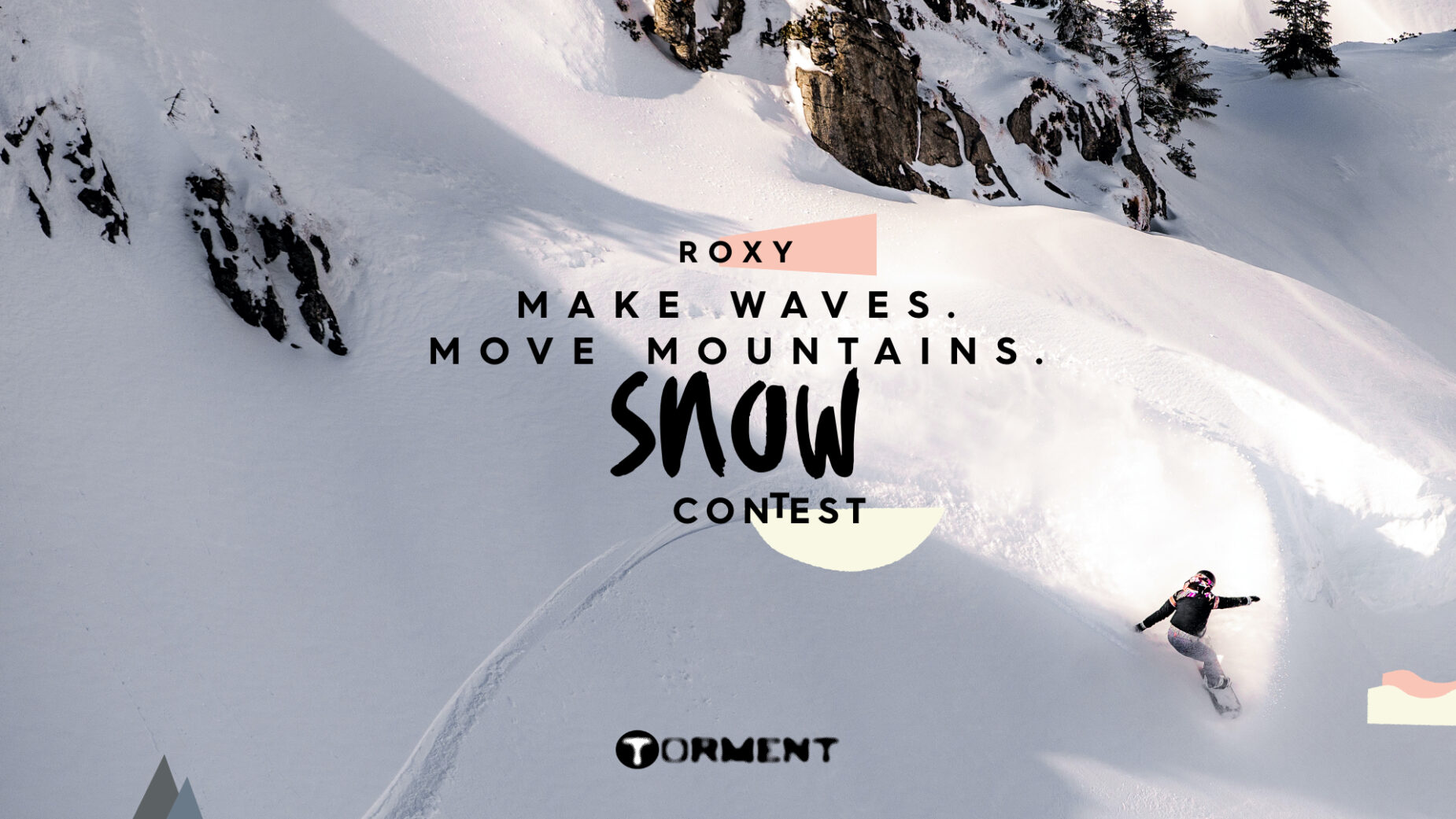 Welcome to the Roxy MAKE WAVES. MOVE MOUNTAINS. Snow Contest, searching for the next up-and-coming female talent. Below you'll find the updates on the contest, rules to follow, and the terms & conditions for participation.

The rules are as follows:
Create a 60-second or less edit of your best footage in any locale (park, street or mountain, etc.) Upload your video to your Instagram with no music tagging @roxy and @torment_mag using the hashtag #MakeWavesMoveMoutainsContest
Must be 13 years or older by the start date of January 19th, 2021.
Refer to the terms and conditions for eligibility.
Only current 20/21 winter season footage will be accepted.
All entires must be submitted no later than February 28th, 2021.
This is a snowboard only contest.
Finalists and the eventual winner will be selected in a conjoined effort by staff members of Roxy Snow, Torment staff and the current Roxy snowboard team by March 5th, 2021. And the winner will be announced March 8th, 2021.
The winning video will be chosen on the attributes of style, tricks, trick selection and overall impression.
The winner will be given 'Am product for a year' of equivalent of $3,000 of Roxy snow product.
As submissions are made, stayed tuned to tormentmag.com to follow the competition.

Terms & Conditions for the Roxy Make Waves Move Mountains Contest:
NO PURCHASE NECESSARY. PURCHASE WILL NOT INCREASE ODDS OF WINNING. THIS IS A SKILL CONTEST. CHANCE WILL NOT DETERMINE ANY WINNER(S).
Video Entry:  In order to enter the Contest, each entrant must create and upload to entrant's Instagram account (requires agreement to Instagram's terms of use and privacy policy and for entrant's profile to be public in order for the videos to be accessible by Sponsor) an Instagram clip between three seconds and one minute in length with original video that has not been previously submitted to Sponsor or any other entity (the "Video") with the hashtag "#makewavesmovemountainscontest" AND tagging @roxy and @torment_mag. The Video must be of the Entrant performing snowboarding tricks in any environment (street, mountain, park, etc.). The Video may not include music or imagery of drugs or alcohol. The Video must be uploaded during the Contest Period and must comply with the Required Representations and Warranties set forth below.  Entrants may not enter the Contest more than once. Anyone found using multiple Instagram accounts to enter the Contest will not be eligible to win. Entries will be deemed to have been submitted by the authorized account holder of the Instagram account submitted at the time of entry. "Authorized Account Holder" is defined as the natural person who is assigned to an Instagram account by Instagram. Entrants must have the prior consent of their parent or legal guardian to enter the Contest and provide personal information. 
If you are an individual eligible to participate in the Contest in accordance with these Official Rules but do not have an account with Instagram, go to Instagram and create one for free.  Use of Instagram is subject to your compliance with all applicable terms and conditions of Instagram.  Any inaccurate or incomplete entry cannot be taken into account and such participation shall be deemed null and void.  Sponsor is not responsible for lost, late, misdirected entries or entries not received regardless of cause.  
Do not participate in the Contest and/or consult a doctor before participating in the Contest if: (1) you are not in good health; (2) you have any physical or mental problems which would hinder you from safely participating in the Contest; or (3) you are not sufficiently trained and experienced enough to understand the risks involved in the Contest.
Your entry must meet all of the Required Representations and Warranties set forth below to the fullest extent applicable for that entry. Failure to complete any step outlined in, or to follow any of, the Official Rules may result in your disqualification.
REQUIRED REPRESENTATIONS AND WARRANTIES: By participating in the Contest, you represent and warrant that your entry (including, without limitation, any Video or other content associated with your entry – hereafter, collectively "Entry") complies with the following criteria as applicable (collectively, the "Required Representations and Warranties"):
Sponsor reserves the right in its sole discretion to not consider any Entry for the Contest if it believes the Entry violates or potentially violates any of the foregoing requirements or otherwise fails to comply with any provision of these Official Rules. You agree to reimburse Sponsor and the Contest Entities in full in respect of any losses, damages, and expenses, including reasonable legal fees (including, where permitted, reasonable attorneys' fees) that they may sustain from the breach of a representation or warranty made by you or the use of any rights granted by you to Sponsor hereunder. 
By submitting your Entry, you grant to Sponsor and the other Contest Entities a perpetual, irrevocable, non-exclusive, worldwide, royalty-free, sub-licensable, freely assignable license to reproduce your Entry and to otherwise (in whole or in part) use, exploit, copy, modify, adapt, edit, publish and display the Entry (including any photo, video or other content associated with your Entry) in any form, manner, venue, media or technology now known or later developed for any and all purposes, including, without limitation, for purposes of trade, advertising, and promotion as Sponsor and the other Contest Entities and their respective licensees or assignees determine, without further compensation, notification, or permission. Further, by entering, you hereby waive any moral rights you may have in your Entry in favor of the Sponsor and other Contest Entities.
By submitting your Entry you also grant to Sponsor and the Contest Entities the worldwide, perpetual, irrevocable, fully sub-licensable, and freely transferable right, but not the obligation, to use any and all names, identities, titles, likenesses, distinctive appearances, physical likenesses, images, portraits, pictures, photographs (whether still or moving), screen personas, voices, vocal styles, statements, gestures, mannerisms, personalities, performance characteristics, biographical data, signatures, and any other indicia or imitations of identity or likeness listed, provided, referenced, or otherwise contained in the Entry (all attributes, collectively, per person, a "Persona") for purposes of advertising and trade, in any format, medium, or technology now known or later developed without further notice, approval, or compensation, unless prohibited by law.
Judging:  Following the Contest Period, Videos that qualify for entry into the Contest will be judged by one or more judges selected by Sponsor that are experienced in snowboarding ("Judging Panel").  Sponsor may remove, replace or add additional judges to the Judging Panel in its sole discretion at any time.  The Videos will be judged based on creativity, technical aspects of the entrant's performance, and flow (e.g., movement from one turn to the next) (the "Criteria"). The Judging Panel will also select one (1) entrant as the potential winner.
Grand Prize:  One (1) winner will receive the Grand Prize, which consists of product from the Roxy Snow collection chosen by the winner with a retail price of up to US$3,000 (in the form of actual product or a gift card).
The total ARV of all prizes awarded under the Contest is US$3,000. All prizes are awarded "AS IS" without any warranty of any kind, express or implied.  No substitution, exchange or transfer of prizes will be made or is permitted except in Sponsor's sole and absolute discretion.  
Sponsor's failure to enforce any term of these Official Rules shall not constitute a waiver of that provision. Sponsor reserves the right to cancel or modify the Contest and to disqualify any entrant for any reason, in its sole and absolute discretion, including (but not limited to) if, for any reason, the Contest is not capable of running as planned, including infection by computer virus, bugs, unauthorized intervention, fraud, technical failures, or any other causes beyond the control of Sponsor which corrupt or affect the administration, security, fairness, integrity or proper conduct of the Contest. If such cancelation occurs, Sponsor reserves the right to select the winners from among all eligible entries. The invalidity or unenforceability of any provision of these Official Rules shall not affect the validity or enforceability of any other provision.  In the event that any provision is determined to be invalid or otherwise unenforceable or illegal, these Official Rules shall otherwise remain in effect and shall be construed in accordance with their terms as if the invalid or illegal provision were not contained herein.