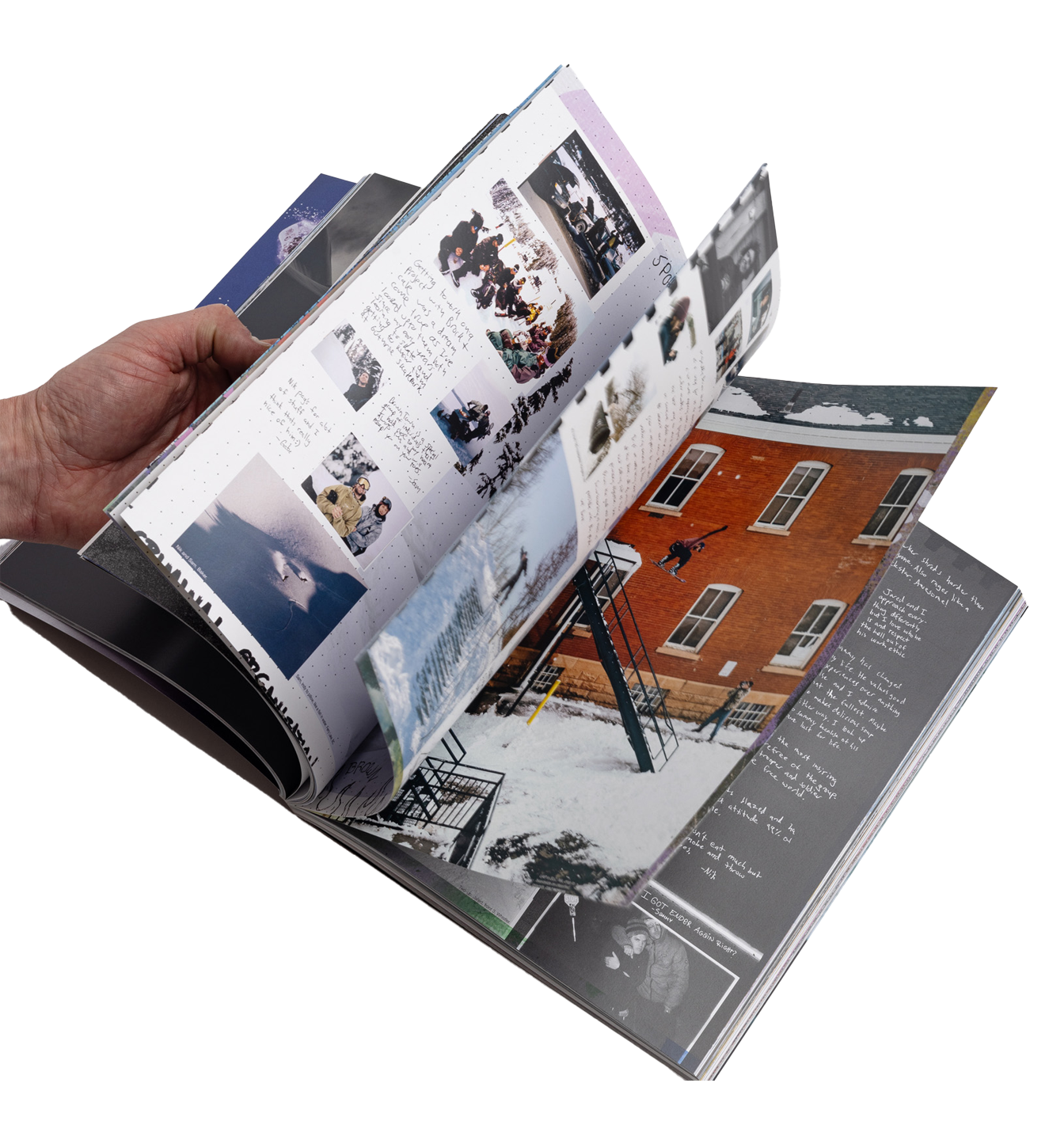 Roughly two weeks have passed since the first glimpse of issue SIX. We hope you made it out to the Depot on Halloween to watch the curtain get drawn, but if you didn't, we hope you know how to read. A recap of the night, through the eyes of Keenan Faulkner-Cawley, is second to none.
While the cover is definitely revealing, we wouldn't blame you if it left a bit more to be desired. You still may be wondering... is Parker tormeneted? Are you tormented? Is the past year in snowboarding just one big manifestation of tormentation? A bit morbid, but valid nonetheless. You just have to buy some print to find out.

Issue SIX
Presented by Arc'teryx, Burton, K2, The North Face, Ride, Salomon, 686, and Vans, Issue SIX is a 228-page, ad-free, snowboard yearbook. You could call it a magazine, but it's actually a coffee table book featuring 9 articles, 99 gallery pages, and a gloss text cover. 
A half a year in the making, this issue (like the five before it) is a carefully curated selection of images and stories, compiled into one perfectly bound stack of paper. We truly pour everything we have into it, so grab a nice drink, find a comfy seat, and settle into the last year of snowboarding. 
Issue SIX Highlights Include:
- Friend of Bjork, dorothy does Iceland, A Month in Reykjavik with Emma, Kennedi, Jake, and Bryden. Written by Jake Kuzyk. Shot by Marc O'Malley
- Citizen Kain, Parker Szumowski feature interview by Ian Boll. Shot by Oli Gagnon
- Brown Cinema and the Knights of the Brown Table, A Two-Year Recap
- A Change in Weather and Mood, A Norwegian Snowboard Tale by Keenan-Faulkner Cawley. Photos by Erik Hoffman, Illustrations by John Garoutte
- Tuesday Has No Feel, A Few Months in Montreal and Calgary with Paid Programming
- Yellow, Ylfa Rúnarsdóttir Interview by Naima Antolin
- Living Free in the Post-ThinkThank Era, A Shift in Snowboarding's Collective Consciousness. Written by Evan Litsios.
- Life is Plastic, A Snowboard Video Filmed by Barbie. Shot by Mikaela Kautzky and Dani K M
- Goop Goes to Japan, Luke Lund Interview by Jon Stark