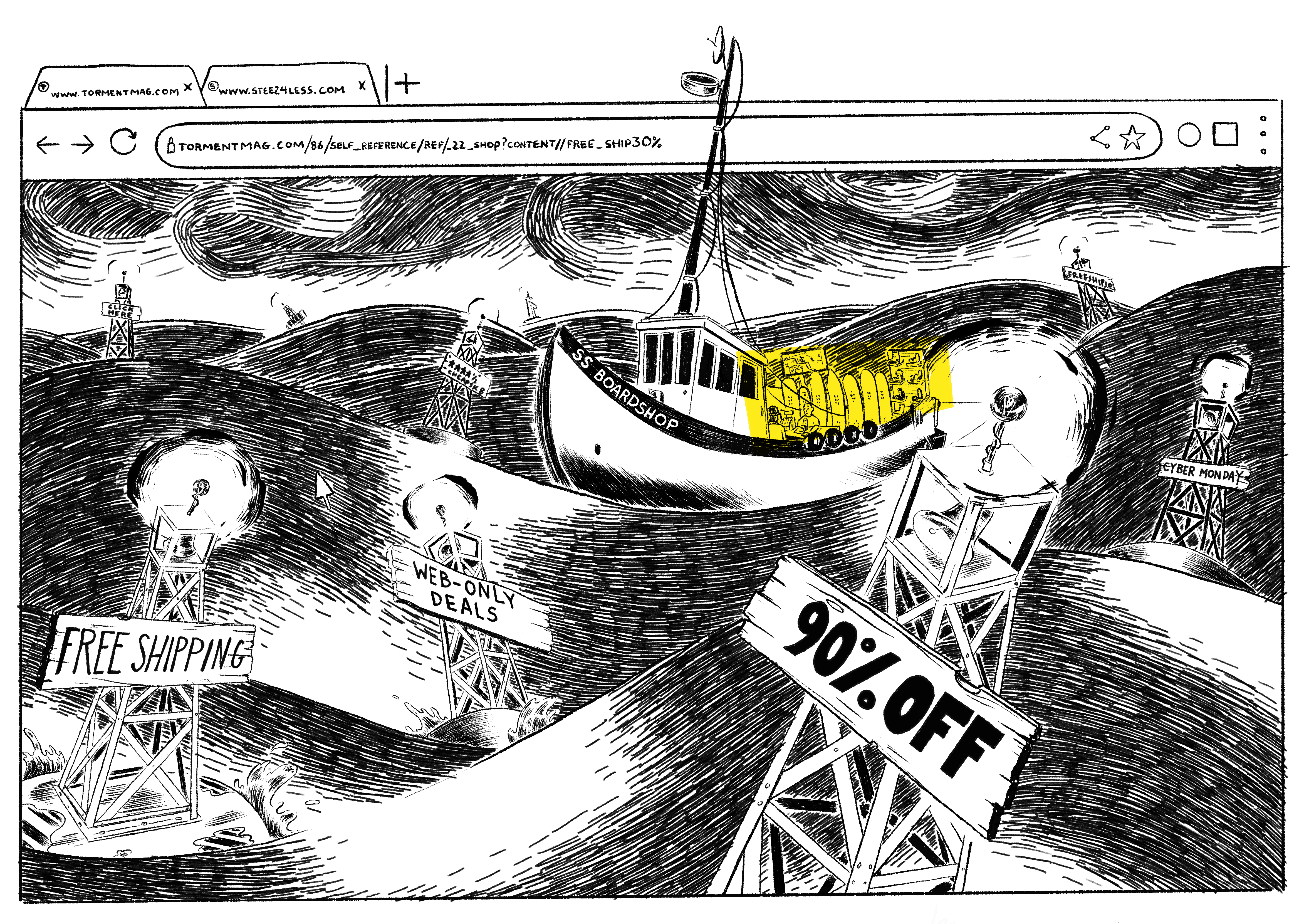 With preseason well underway, we got to thinking about the cyclical question that hurts our wallets around this time every year: should I get a new set up? If the answer is yes—or if you've even purchased any product in the last two decades—then chances are your first thought was to open Safari and start searching. This has always left us a bit unsettled, especially watching snowboard shops close at an unprecedented rate in the last few years. Regardless of the industry, it seems like we've become more accustomed to grand closing sales than grand opening parties. There's a few exceptions (Neon Wave opened relatively recently), but across the board, there's a fleeting association with what was once the only place to get your goods.
Now, in the 21st century economy, it's clear that brick-and-mortar shops hold an interesting space in what is undoubtedly a digitally-driven marketplace. In almost every sense of sales, it seems like brick-and-mortar's arrogant, Gen-Z stepbrother (e-commerce) has become the family favorite. A necessary evil, sure, but there's gotta be more to the story. Snowboard shops are the cornerstone of our industry—online or not—so we went straight to the source to better understand how they're still surviving today.
We reached out to 5 key shops, all of which represent a different geographical region and snowboard community. It's worth noting that there's a laundry list of other snowboard shops out there still doing it, and we're just as curious how they've remained profitable in this day and age. You just gotta go into your local shop, buy something, and ask for yourself...


Words by: Raul Pinto (Owner)
Location: Boulder, CO
In Business Since: 2002

Best Selling Product: Vans Boots.
Worst Selling Product: Snowboards—year in, year out.
How many shops are in town?
When we first started, there was a Zumiez and a BC Surf and Sport. There was something going on with the mall, they were doing a redo, so Zumiez bailed and never came back. They still have yet to come back to town—don't get any ideas, Zumiez. BC moved back, though, and they actually moved across the street from our OG location.
Now we've got REI, Christie Sports, Moose Jaw, Volcom, Billabong, North Face, and even Epic Mountain Sports. Boulder's only a mile or two across, everything is within ten minutes driving, so now they're all in one place. It's just a flood of stuff, and especially when you get to February when everyone decides they have to just fire-sale all their stuff out. 
What one company have you guys stocked the longest?
Vans, for sure. They were one of the first brands we signed. We felt like we needed to have pillar brands, and they were one of the only companies we had an official meeting with. A lot of the other brands you could call up and be like, "Hey, we want to carry your stuff." Whereas with Vans, it was a little more of a business proposal with what we wanted to do and what we wanted to be.
What has been the biggest single hurdle to overcome since you started your business?
Rent and moving. Not owning a building in a place like Boulder is a challenging thing. Being located in an affluent town has its positives, but also has its negatives. So many businesses have moved to Longmont or Louisville because rent's just too crazy to be paying here. Over 21 years, we've moved three times. When you first do it, you're like, "okay, we moved no big deal." The second time you're like, "ah, we gotta move all this stuff" because it's not just the building, it's this work of art with all these relics, all this stuff that's gotta get packed into the store. But the cool thing is when it's done, it sort of creates this new iteration of that history and that's always been a positive.
Financially, one of the bigger blows was Nike peacing out. That was a tough one. At the time, the SB side of things was really strong and the snow division was just as strong for the whole other chunk of the year. Then, all of a sudden, it was just shut off and it was this sort of insular little economy that was like, nope, we're done. It'd be the same if right now, every skate shop that has an SB account lost their SB account. They'd be pretty devastated.
What does the future look like for independently owned shops?
The internet wants to say that shops are done and that's that. Even so, I still think that the culture around snowboarding and the amount of people that are doing it leaves an allowance for these shops to survive—and if anything, potentially grow.
Satellite is only 20 years old and there's ski shops out there that have been around forever. You can buy a snowboard, but at some point you gotta tune it, you gotta take care of it. So, I think there's a lot of room for growth for these smaller shops when it comes to who has the true ownership over the brands. All it takes is the right group of people to build something back up into the new hype thing that people have to have.

Words by: Tucker Zink (General Manager)
Location: Killington, VT + Okemo, VT + Stowe, VT (RIP)
In Business Since: 1989

Best Selling Product: Anything with "Darkside" on it.
Worst Selling Product: We don't carry anything that doesn't sell.
Talk about community and the role it plays with a shop.
Community is everything. Years ago, everyone wanted to be the "core shop," carrying the coolest brands and selling only to the coolest people. That mentality faded as snowboarding became more mainstream. Core became poor, and "Community Not Core" (shoutout Travis @ Splinters), became the mantra. We have been building this community in VT for over 3 decades, and it has reached corners of the world we could've never imagined. 
I have met some of my best friends through the shop, and watched a ton of young riders come into their stride here. Almost every day we hear stories of "I bought my first board here"…. "I came here in 1991…"my parents brought me here every year as a kid." The community has solidified our place in VT, and in snowboarding as a whole. Without them, we would be nothing.
Killington's contest scene looks a lot different than it used to. How did the resort hosting highly trafficked events like the Grand Prix and the Dew Tour impact sales at the shop?
When those events went on here, it definitely brought people to town and into the shop—especially pro riders. We used to host a ton of in-person signing events during those contests. In the grand scheme of things, it boosted Killington in the snowboard world, highlighting our resort and town. Those marquee events helped people discover Killington over the years, and the scene here keeps them coming back.
The Dark Park is a staple of the shop, and seems to be a big destination for people regardless of their willingness to purchase anything. Does traffic on the rope tow result in traffic in the shop?
100%. It is a symbiotic relationship. By making it free to the public, it entices riders to come inside and buy something. They want to support what we're doing, and when they need something, they know we have it. Especially in the summer—we're the only skate shop in the area and also the only place to skate. So when someone breaks a deck in the park, or realizes their bearings are toast, they come inside.
Do all the attractions (Dark Park, mini ramp, tvs) contribute to the shops success in other ways?
More than just putting money in the register, it really helps solidify our brand in people's heads. There are a ton of skiers that use the park, and others who use the skate park. They may not need to buy anything from us, but they're down to rep the "Darkside" because we gave them an awesome experience at our space.
Darkside's Okemo location just experienced a devastating flood that affected most of the merchandise, effectively closing the shop for the past few months. How has the snowboard community contributed to the shop's recovery? What would the situation look like without the support from the Flood Sale?
We would still be stuck in the mud without the support from this community. The first two days were extremely daunting—the logistics of storage, all the transportation, and how many loads of laundry we would have to do. A few Instagram posts later, and the weight started lifting. People were coming out of the woodworks to help in any way they could. From pulling racks out of the mud, to hosing off outerwear in the lot and scrubbing snowboards, it truly was a group effort. 
We basically cleared an entire store's worth of softgoods in a weekend with the sale. A big part of it was online too—we got put into a reddit thread and had something like 300 orders going to all parts of the country. With the uncertainty of how we were going to pay for a rebuild, our community really stepped up when we needed it most.

Words by: Max Raymer (General Manager)
Location: Salt Lake City, UT
In Business Since: 1984
Best Selling Product: Anything that the team rides or the staff at Milo is hyped on.
Worst Selling Product: We don't stock anything we don't believe in.
How much does the shop sacrifice to benefit the culture?
I don't think a shop sacrifices anything to support or benefit the culture. For a lot of us that don't travel, our local shop is our culture. Going into a shop and being able to ask the guy behind the counter what's the latest and greatest, or what's cool for this year, will never change. You're asking the guy behind the counter that snowboards five to seven days a week what they think is cool. That's ultimately more powerful than seeing something on Instagram.
What has been the biggest single hurdle to overcome since you started your business?
Probably brands selling direct-to-consumer. As brands begin to make a stride to sell directly, it inevitably takes people away from the shop. The more brands can help push people towards their local shop only helps that brand in the end. Staff makes sure they get on the right gear, as well as spending your money with someone face to face.
What does the future look like for independently owned shops?
Honestly, the future looks like gear that is exclusive to shops. Private label stuff, such as Milo gear, as well as specific products you can only find in brick-and-mortars. That's what will continue to bring people into doors across the world.
It seems like the Pro Sale has a very important place in the shop's history. How long has that event been running, and how does it contribute to the shop's success?
The Pro Sale is a unique place in Milosport's history, stemming from JP Walker, Jeremy Jones, Jason Murphy, Josh Roberts, and a few others selling gear in the shop's parking lot. When snowboard gear was more scarce, the value of getting your hands on one of the pro's boards or outerwear was intangible.
Today, the Pro Sale continues to be a cultural hub for snowboarding every year. We still see that eagerness from the locals to meet their favorite riders and ask them about the gear they're riding. I don't know how many other events in the world have people camping out overnight—even when we tell people you're not supposed to camp out. You can feel this underlying vibe of stoke and excitement for winter. The Milosport lot becomes a place where the snowboarding heartbeat continues to pulse.

Words by: Brian Fiske (General Manager)
Location: Worcester, MA + Nashua, NH
In Business Since: 1989
Best Selling Product: Hardgoods, specifically bindings. They cast the widest net because sizing is simple.
Worst Selling Product: Backcountry equipment.
How many shops are town?
There are still three legitimate shops in Nashua, including EB. The one benefit is there's no sales tax in New Hampshire, and we're right on the Massachusetts border, so it lends itself as a destination.
How important is having a shop team to benefit the culture? Do you think that has an influence on the shop's success?
The most important. Our team is the backbone of the shop, but not only them; the locals too. Combined, they help add another dimension to the image of the shop. They generate excitement, and in turn are the content creators.
In the case of EB, the team is also a huge part of our story…they came up with us and now we come up with them! We've been around for 34 years—at one point we had five shops and you can imagine how many employees, homies, and rippers that involves. There are a bunch of absolute legends that are still down for the shop. It's incredible, like a big family, that's the thing. Currently, though, we haven't been able to sacrifice as much for the culture as we would like to. As the retail landscape changed, we didn't evolve fast enough and things have been hard. Currently, things are being handled in a much better way. We're looking forward to being able to do more in the near future—on so many fronts.
How do you determine as a shop what brands you'll carry?
Association with our team riders is a big one. If Capita is supporting Mike Rav, then we're supporting Capita. We also like to bring in brands that we can stand behind and recommend. We want our customers only riding products that fit well, ride well, and perform well front to back.
It's also about supporting brands with good intentions for not only the customer, but for the shops selling it, as well as the industry as a whole. Just like we need to take care of this planet, we also need to take care of this snowboard world!
What does the future look like for independently owned shops?
It's tough, I'm not gonna lie. There is a not so subtle feeling of the industry slowly getting rid of shops by selling direct. So I guess we better be excellent if we want to survive.

Words by: Ben Clarke (Owner)
Location: Keego Harbor, MI
In Business Since: 2010
Best Selling Product: Capita Snowboards.
Worst Selling Product: Youth outerwear.
How many shops are in town?
The Peak is the only other shop left in Keego Harbor (it's not the same as Skiers Peak). Back in the day, there was The Outdoor Action Company, Summit Sports, Skiers Peak, and even TWC (which was around for almost 20 years).
What is the biggest determiner in a successful winter?
Early sales. There's a limited time to sell snowboard gear and we're dealing with changing weather patterns. We're in Southeast Michigan and we have years where it just rains and rains. Winters seem to be shifting later, which is a huge problem too. We need to have strong sales before the New Year, and weather is the biggest factor in snowboard consumer confidence.
Any standout years for sales? If so, why?
It will be really hard to beat 2020-2021 (the "COVID" years). Supply and demand is the best answer here. There was massive demand and a limited supply. I worked hard with vendors to get the product I needed. I saw the demand early on, and got some reorders placed before other major retailers. Consumer confidence was at an all-time high and we got stimulus checks, there was little to do but get outdoors. It seemed like everyone was getting into snowboarding or replacing their old equipment. I just adapted and handled inventory better than most, and was rewarded for that.
How have you had to make adjustments in the recent years to help business?
We've had to focus much more attention into our e-commerce business. Increasingly, customers are more comfortable with shopping online than going into a store. There's a growing sense of distrust in face-to-face sales interactions. Ironically, there's a strong blind faith in online reviews, most of which are generic and insincere. They're echoes of the brand's marketing material. Some random person behind a keyboard is an authority because they maybe rode a board or bindings for a handful of runs and have followers and a slick looking website? Chat GPT will give you that same information…
What has been the biggest single hurdle to overcome since you started your business?
Managing cash flow and inventory is never easy. Forecasting prebooks almost a year ahead of receiving product, only to be thrown a bunch of curveballs that no one could have predicted. And when the bills come due, no one is there to rescue you. Didn't sell kids jackets this year? Well, you have a lot of them sitting now and that's your problem. Forget making money, you're just trying to get it back.
Does weather affect sales for snowboard gear?
It's probably the single biggest factor in sales. We live and die by the changing climate, and it's not getting better for snowboarding. Take last year for example: We got a little snow and cold in November, which got the resorts open—great! We are selling stuff. Not so fast… It's going to rain like crazy in December and then there's no snow in January. February is alright, but there's too much inventory out there due to overly optimistic COVID projections. Now, everything is on discount as soon as manufacturers allow—sometimes directly from them. It's a race to the bottom to not be the one with too much inventory that you can't pay your bills. It's like a really cruel version of musical chairs.
How do you deal in a seasonal industry?
Boom or bust. We have such a narrow window to sell merchandise at a sustainable margin, it's really like two months or 75 days that we have strong sales to determine if we get to keep going. No one is going to bail you out, and while some brands or reps do try to help, it's often too little too late. It can just soften the blow, but I'll be the one eating hotdogs for dinner until I can move that inventory that no one wants for another eight months. Selling skateboards is a lot more predictable—markdowns are not an expectation and the consumer hasn't been trained to expect a deal near a given date. 
This is a flaw of the snowboard industry model. Consistently devaluing products because we're trying to clear out over production is not healthy. We end up with a graphic change and little else, but now that $500 is $350. I want $350 boards to exist, but not like this. It's bad for the environment, and hurts the profitability of brands who will make cuts to things like their snowboard team or promo for events. Precisely the things that should be invested in are the first to get cut because the consumer doesn't see it. That discounted snowboard actually costs more, it's just being taken from a different place.