Red Bull Heavy Metal (2023)
Hart Plaza, Detroit, MI

As you may recall, the last correspondence I offered from Heavy Metal began in the sky. This one is no different. Who knows how many tens of thousands of feet in the air I am. A year's worth of sporadic assignments has taught me a few things, none of which dealt with even an inkling in aeronautics. What I have learned is this: don't ask how, bask in the wow. Although I'm coining that jaunty verbiage, I have, unfortunately, not yet mastered putting it into practice. I teeter on that line, somewhat neurotically watching myself sway between slack and taut - from laissez faire to Let's overanalyze everything. Paranoid? Perhaps. Present? At times. I thrive on pressure and the guise of self-sabotage. And now, probably nearing a million miles high in the sky, destination: Detroit, I choose to bask.
I am parked in my seat on the bird. The last thing I did before turning my phone on airplane mode was call out from my day job. I could've not. The event is two days out. I didn't have to leave today. But the opportunity to ride Pine Knob tomorrow for the first time exists in my world as equal to riding Mt. Hood for the first time, and those familiar with my journaling through this platform will receive that news unsurprisingly. For those in the dark, I'll offer this: white lies are o.k. if they mean you can go snowboard. Back on the bird, I retrieve a book from my bag, order a whiskey, and enjoy the now. (Or is it wow?)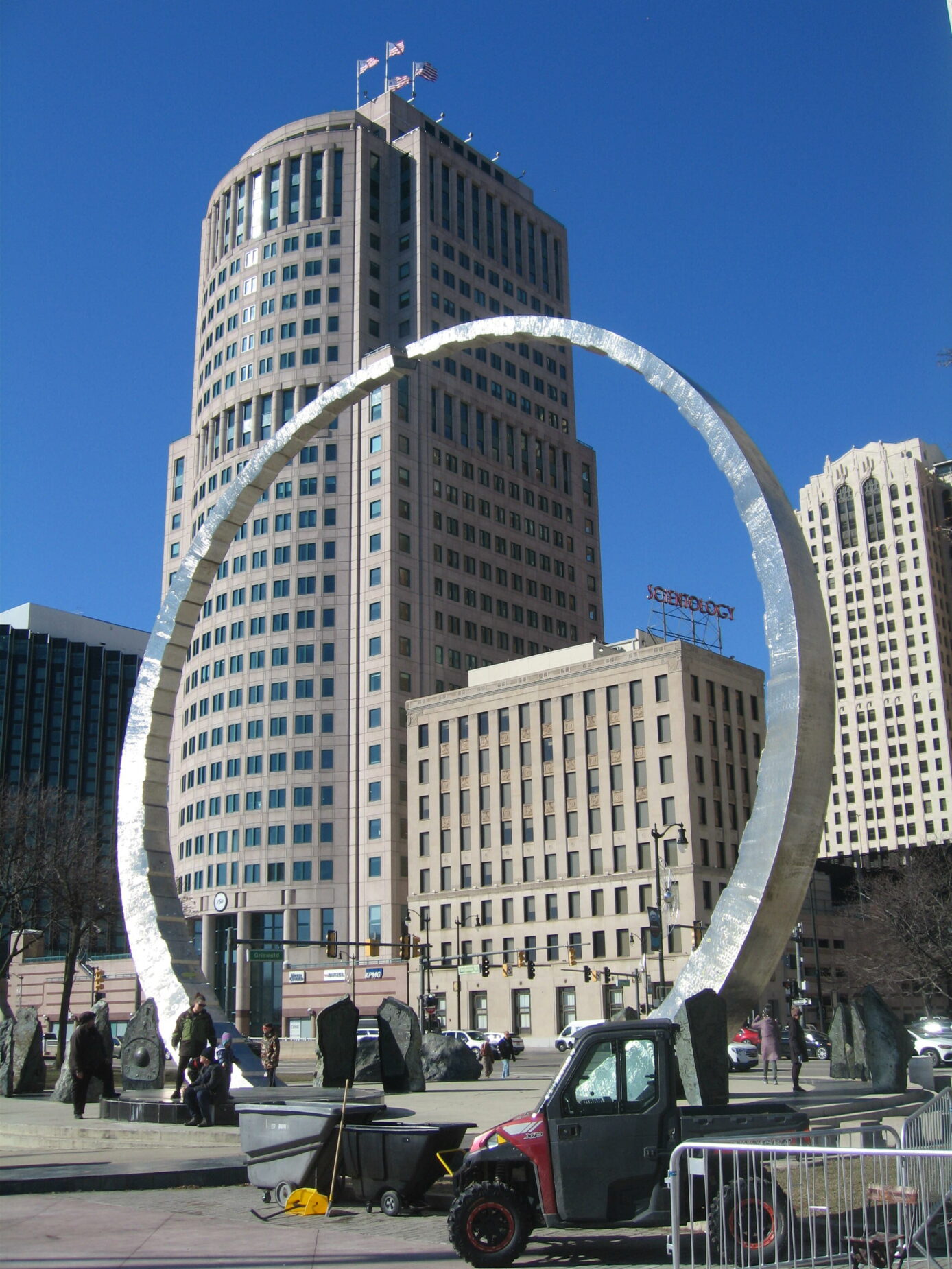 With a fender-bender sized dent in good-ol' Tom Robbins and an awfully clear sight at the bottom of my drink, I gaze at the textured American lines out the window. They, like the balancing act in my own noggin, seem animated. West-facing peaks of the outskirt High Sierras are white. East-facing, arid. Hours of drought, scoured red. They transform to consistently rust-colored which gradually softens to an entirely chocolate landscape, devoured by a drawling sunset. Then more mountains. My ego assumes the ski resorts underneath are visible to no one but me. The snow again sloughs out, browning out, giving way to the varicose veins of Americana, eventually all burnt sienna, says the box of Crayons in my bag. The term 'Red Bull' sounds more poetic the slower I say it, the more I look. 'Red bull', found somewhere in between 'timberwolf', 'tumbleweed', and 'chestnut'. 
The sun sets. Or, wakefulness weakens. For some reason, like faint clouds, or hovering mist appropriating the horizon - like a dream, or fog - the how reemerges in my brain. I don't panic - I know that's useless - but I accept that I'm anxious. I know I'll be landing soon. Essentially, by way of the how creeping in and yanking me stiff, landing is when the event starts. For me, at least. Luckily Matt's waiting for me at baggage claim. Matt is wow embodied. No time for fantastic (nor fatalistic) fabrications; it's already 11 P.M. We scurry to the hotel, drop our bags, and are, with the assistance of one taurine-tinged namedrop, escorted to a speakeasy underneath an unassuming nightclub to cool off with a few Heinekens. It's somewhere in this seedy basement that I realize that the how is more giggle-worthy than groan-inducing. Thanks Matt. We spend the early morning laughing underground before choosing to do the responsible thing and fall asleep at nearly 5.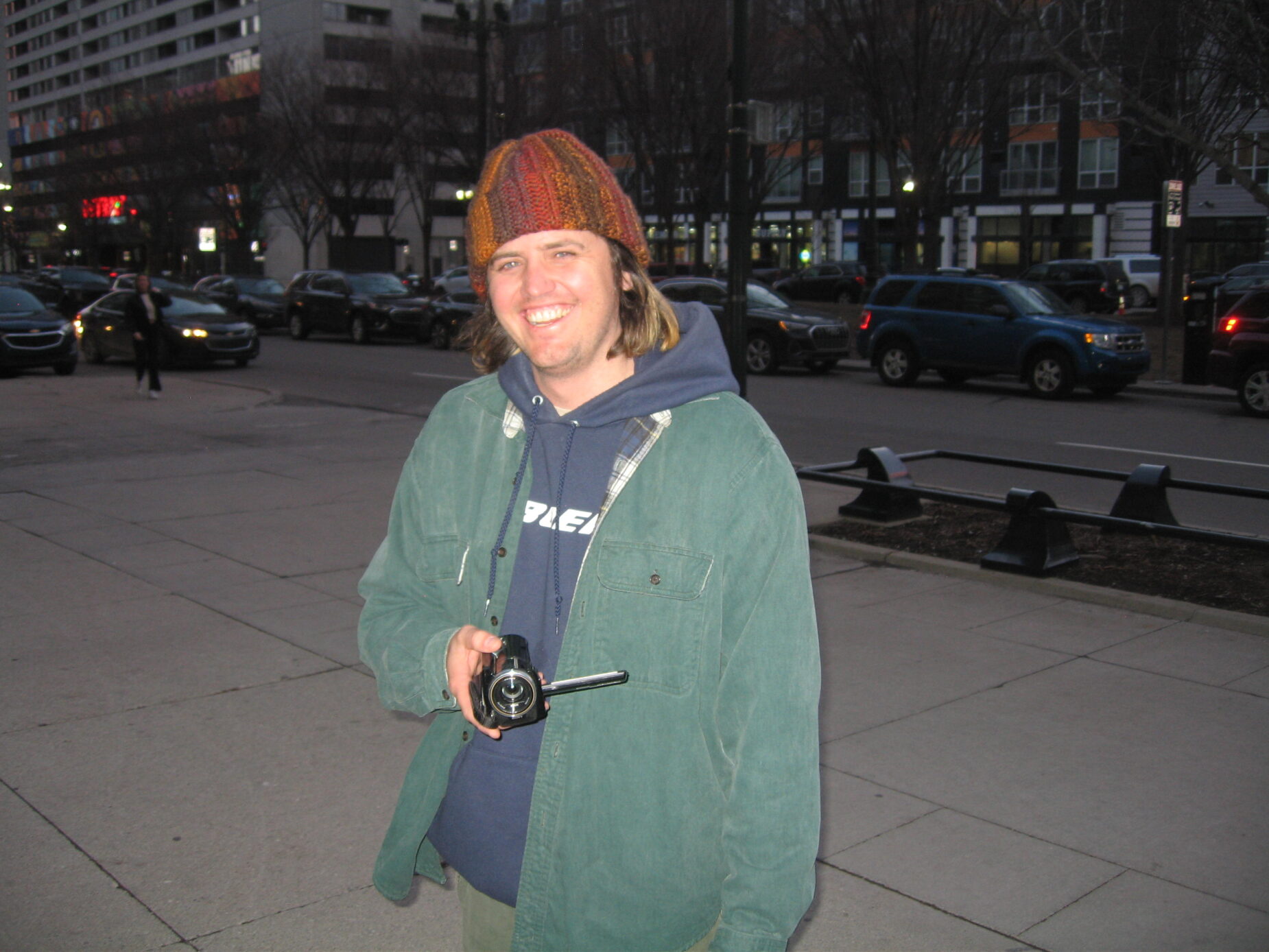 ~
5 hours later sees us in the middle row of Hospitable Hunter's rental on our way to Pine Knob. Hunter is the lady of the hour (Miss Grace Warner, duh)'s, agent, and next to him in shotgun sits Katie, the delightful Red Bull communications manager. Behind us sit Mees and Max, the instantly lovable and goof-off with-able boarders from the Netherlands. And there Matt and I are, tucked right in between the brass and the talent. Our roles here in Detroit are realized relatively swiftly: we're right in the middle of things. Talk about cosmic placement.
Lift tickets are distributed, sausage sandwiches are demolished, hookers are discussed with ski patrol, and before we know it we're lapping the rope. Pine Knob is a special place, and, like our quick realization in the car, it didn't take long to come to that conclusion. I guess it's just a morning choc-full of revelations! But Pine Knob is special not only from the personal perspective of the terrain (every kid I rode the rope with responded to my immediate heralding of the park with "Yeah, Matt Dunn is the best" - Matt Dunn being none other than said terrain park's Head Honcho) but also from its inhabitants (every kid I rode the rope with, or saw from the rope, was not only formidably proficient in trick selection and style, but was also sporting an ear-to-ear smile). And of the boarders boarding I recognize plenty. Visiting pros in town for tomorrow's event were among the obvious, though my eyes were mostly on the locals. Watching the stars of Cooper Vosburg's newest offering (No Pressure, if you're still sleeping) ride their home turf was a treat. And simultaneously blatantly indicative of why we had all gathered here. This group of kids is on to something. I could watch Grace and her little brother Drake and Brent Behm follow each other down that hill all day… just so long as I could squeeze in a couple melon grabs off the jump myself ;)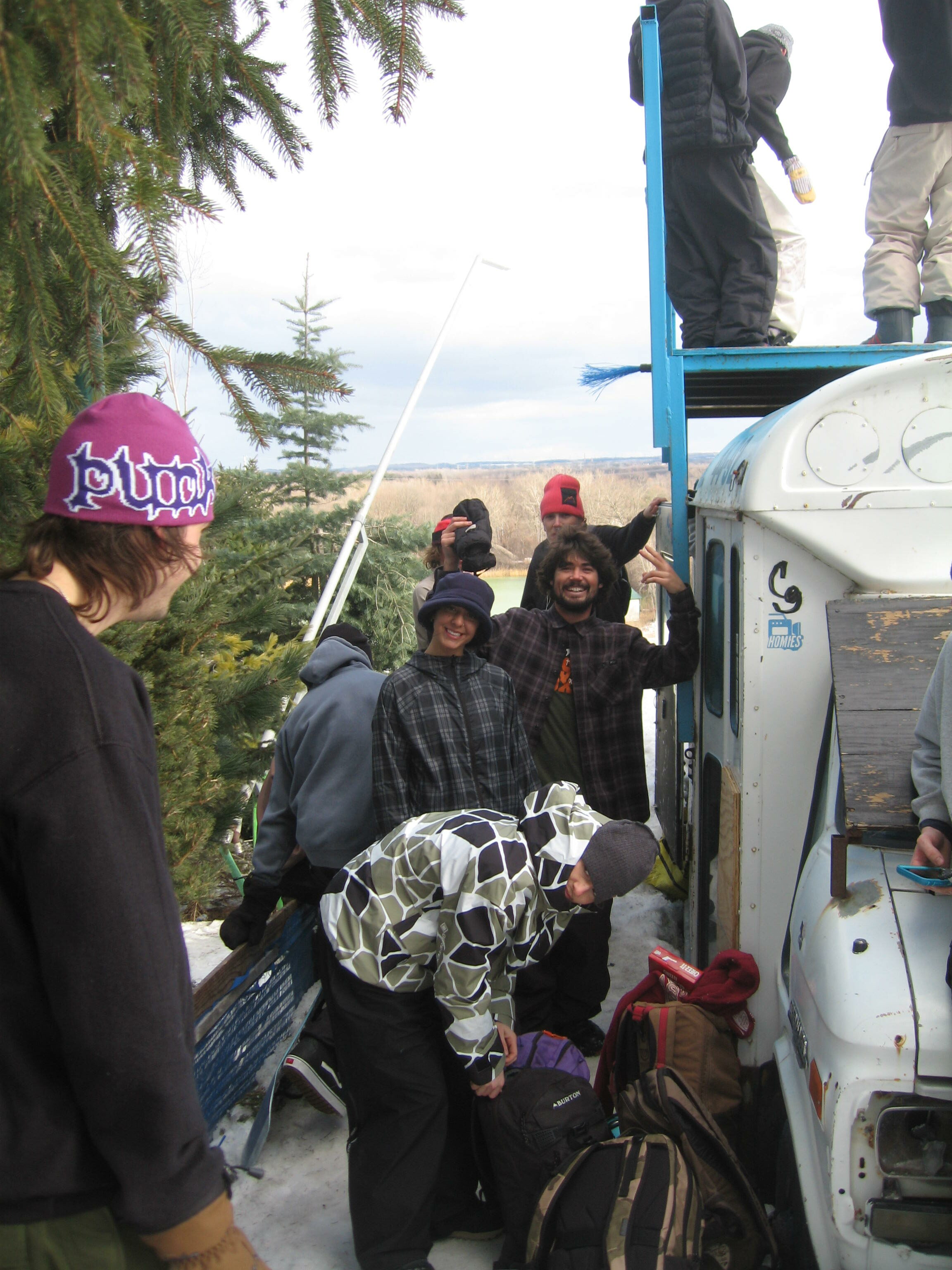 But back to the wow. I mean the now.
Ride like a fool. Turn the hail to sunshine. Sync with old friends, turn internet friends to real ones, and make new favorite boarders. Dap up Toots. Cut off Grace (whoops!), teach children how to back 3, tag the bus - done, done, and done. A rope never fails and the Knob's is no exception; we had a day and a half in a matter of a few hours. All blessings, all love.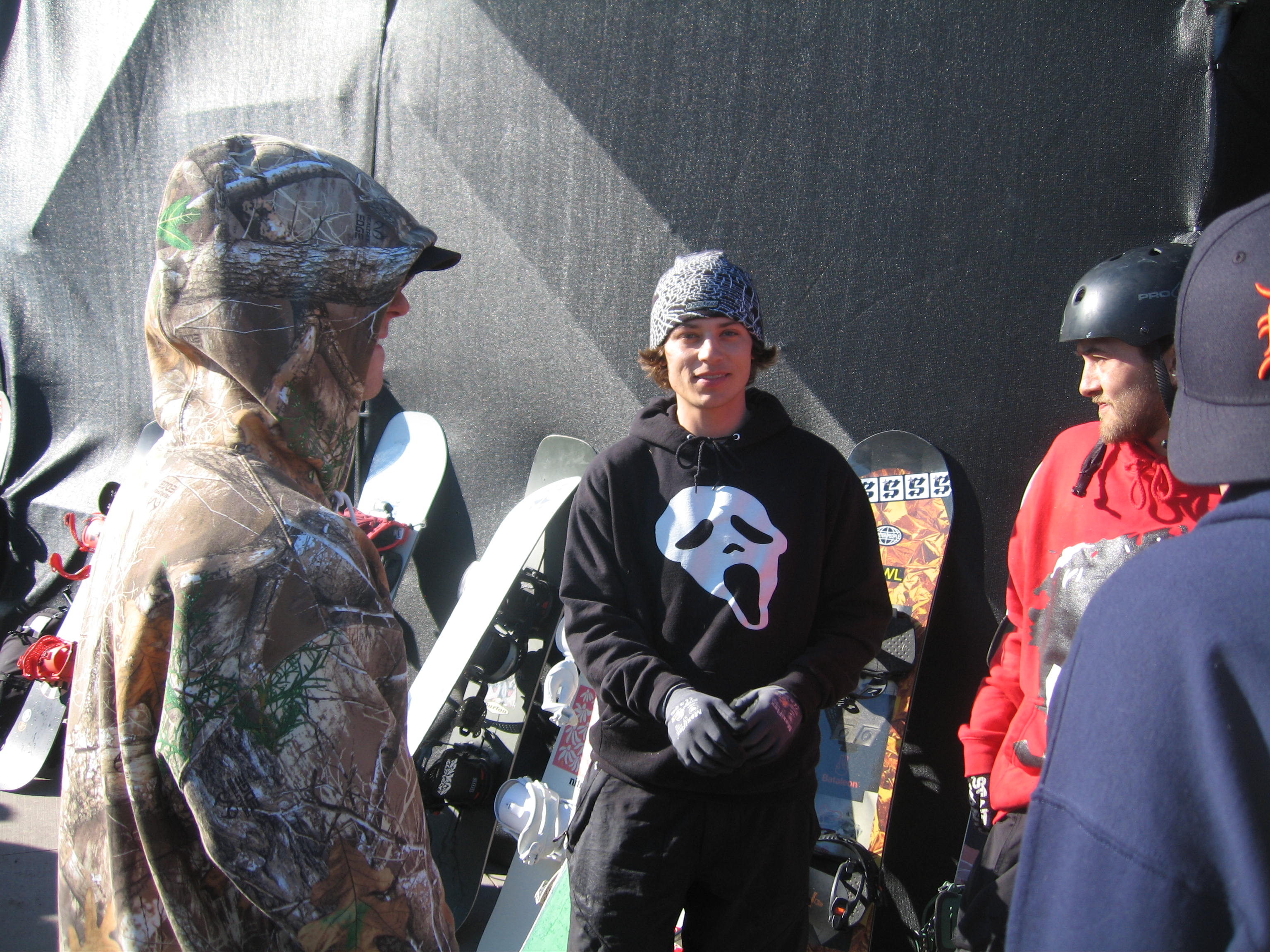 ~
Grace rides shotgun with us on the way back to the hotel. Or maybe this phrasing is more appropriate: Matt and I are lucky enough to catch a ride back to the hotel with Grace and HH (Hospitable Hunter). We talk about boarding and the like, the delights of said rope and the gratitude we all share to have such a simple pleasure in our lives that make us feel free and deliver genuine and precious emotions to our silly little existences. We don't actually say anything like that but as a boarder, I know that sentiment is engrained underneath her blue-and-silver helmet. What we do talk about, however, is the fact that there's an internationally broadcast event tomorrow morning and the 22 year old, freshly anointed Queen of Michigan snowboarding, who's sitting in front of us, has her name attached to it. She says she's overwhelmed and although I believe her and can actually feel some of the loose strands of it emanating off of her, I'm astonished at how she's handling the pressure. If I were in her shoes, even at 10 years her senior, I would be… I wouldn't be doing anything. I wouldn't have made it a fraction of the distance that this young woman has. And it's with this thought that gives me an epiphany. An *aha* that immediately stabilizes my internalized how-wow balance. I have nothing to be anxious about, save the pending response of this here document. And with that in mind, all I can do is take a note from Grace's book and greet the challenge with a humble dose of professionalism and a smile. With an ounce of confidence and the self-awareness of my own abilities. They drop Matt and I off so they could take care of business. We get to our room and collapse on the beds. We give each other a knowing look, an affirmation that we're both thinking the same thing. But I think we got our humble doses and ounces mixed up and the next thing we knew we split a homemade chocolate bar that said "Might Do Something" a la Lewis Carroll on the label and hit the lobby for a Red Bull pizza party. Deep down I know that balance isn't stationary, and I for one, and Matt for two, felt morally obligated to get that tightrope in our collective brains a-swinging.
~
Saturday morning comes briskly. The big day. Winds ripping in off the Detroit River have me shaking Igg-sauce from my griddled, all-beef bologna breakfast sandwich all over. It dawns on me that the shaking is purely weather-dependent - I'm not nervous! We move onward to Hart Plaza. Mid-walk, I wonder if these chilly gusts are turning Grace's morning-of butterflies into straight-up jitters. And then, mid-walk, we turn around; call it the call of the wild. Or, considering a chance encounter with one of my childhood journalistic heroes, Annie Fast, call it fate. Matt and I march to the plaza, now with empty bowels and fully charged spiritual batteries. We amble around from zone to zone, halting at each to fraternize with familiar faces doing the same thing. Of course we have to mingle with Murph. And of course I have to dap up Toots again. And, oh! What's that? An official Red Bull bucket hat? Don't mind if I do!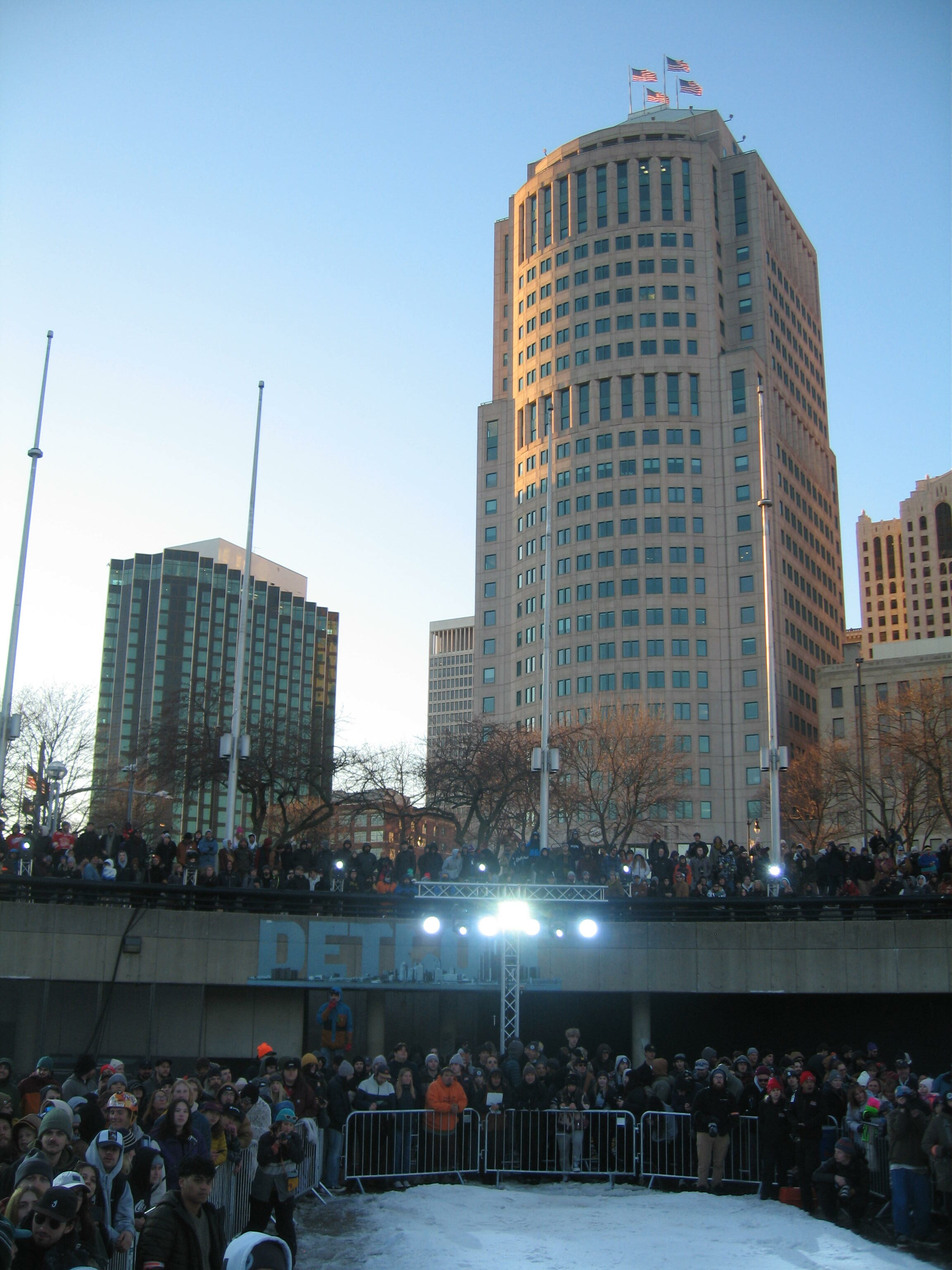 Eventually we bump into Grace and as it turns out, the winds don't seem to be heightening her nerves one bit. Anxious? Well, of course - most every rider we'd seen was under something akin to the how part of the how-wow spell. But she, like the rest of her event-goers, appears non-apprehensive and all-ready. And the most ready, the most in wow state, is Denver. He's already strapped in atop the scaffolding before Blum's wall. No sooner does the mass of some-thousand people [note: there's a chance my head-counting abilities rub elbows with my aeronautical distance-measuring abilities] crowd around it, does he drop in and fling an andrecht some three-quarters of the way up it. The plaza bursts like Kid Rock just started belting Bawitdaba. And it's on. But with that kind of energy - when you're really in that pit trying to love someone - things happen in the blink of an eye. Before we know it, Lolo Derminio is the last one to go, and with her tail grab bomb-drop, she too dropped the boogie.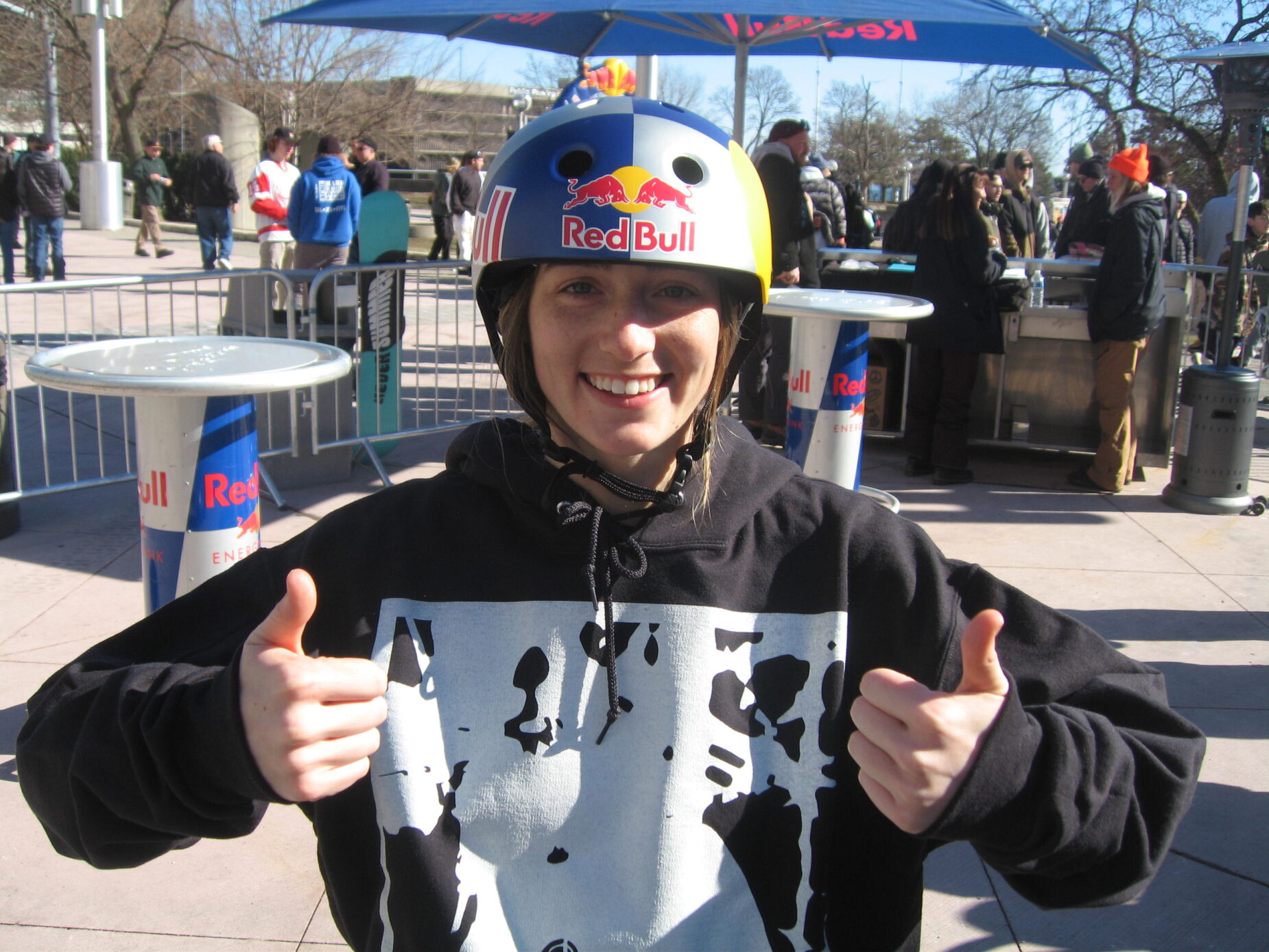 What I recall from the opening act was, aside from those two stunts, a lot of flips - cripplers, McTwists, switch ones, and even some 720s - a couple foot plants from Casey Pflipsen and Aiden Hascall, Ryan Paul aka RP aka 86 going in from the top with a foot out, as well as another time, spinning like a swirling pot of Nickelodeon slime, and the most rookiest of all, Irie Jefferson, really flexing out an indy nose bonk. Aside from them, Zeb did what Zeb does best, and that's doing stuff that nobody else can. He appeared to be the only person who could reach coping and he did so once on a blunt and another time with both hands. While the lack of play up there was somewhat of a bummer, it also solidified a thought that, in all honesty, no one really ever doubted. That being: Blum is the best.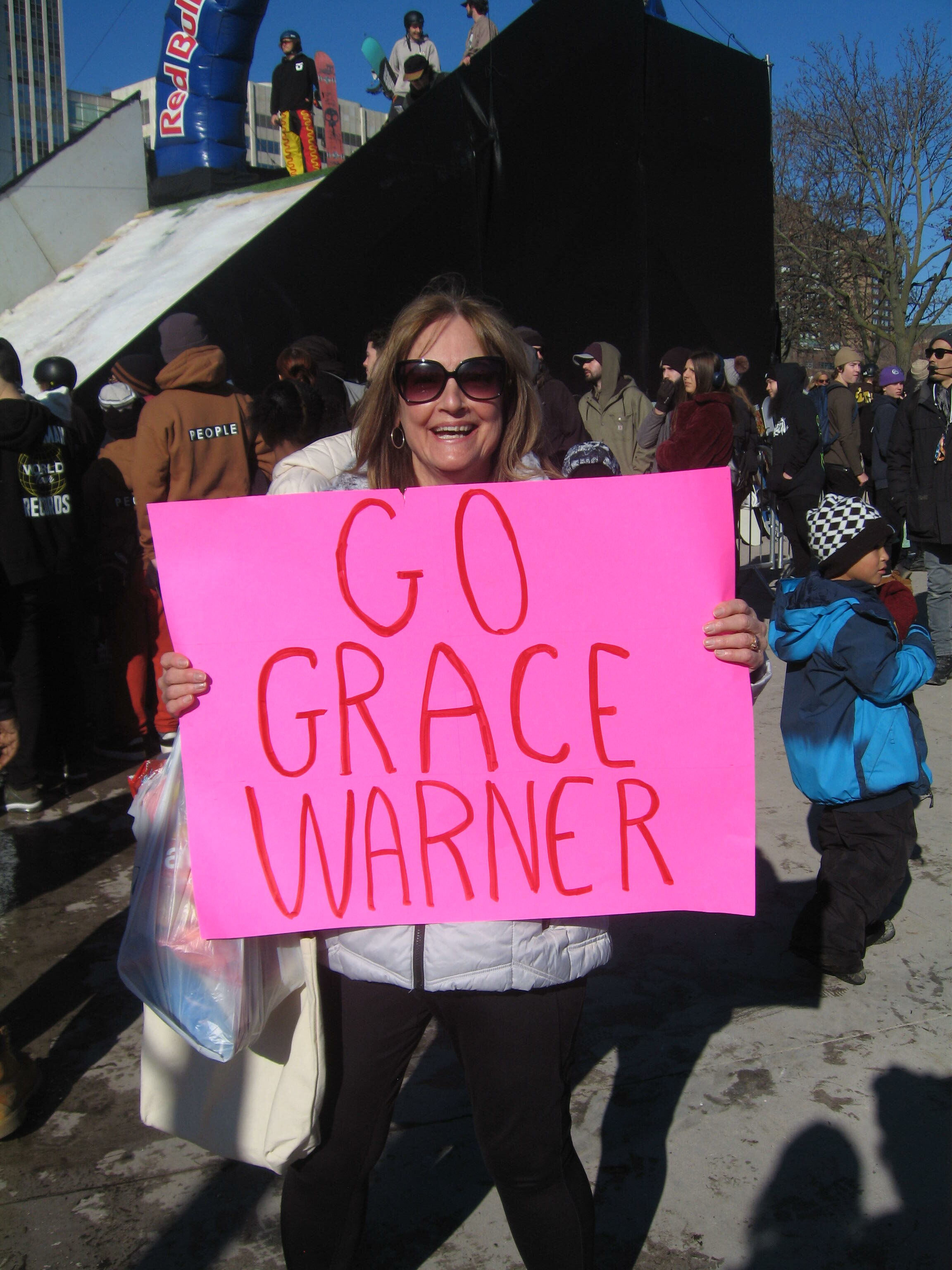 We meander with the hordes to the double set with the fancy new kink rail placed on it. If the wall was Kid Rock for the masses then this set is Eminem and it's for the locals. Drake's transferring from the kink, left, backlip. Brent's boardslide transferring right to the creeper. Grace is greasing the shit out of the whole thing. It's not to say the out-of-towners aren't doing nothing - Egan and Maggie are lining up creeper combos, our Netherlander homie Mees is knocked out (it is Heavy Metal, remember?), Fava's going backside off the kink like he's still at the Dog Fight, and RP's still slime-spinning around like crazy. But Eminem's got to get back to 8 Mile for the night shift at the factory, so this session ends with a clear understanding that this Detroit talent's got it going on.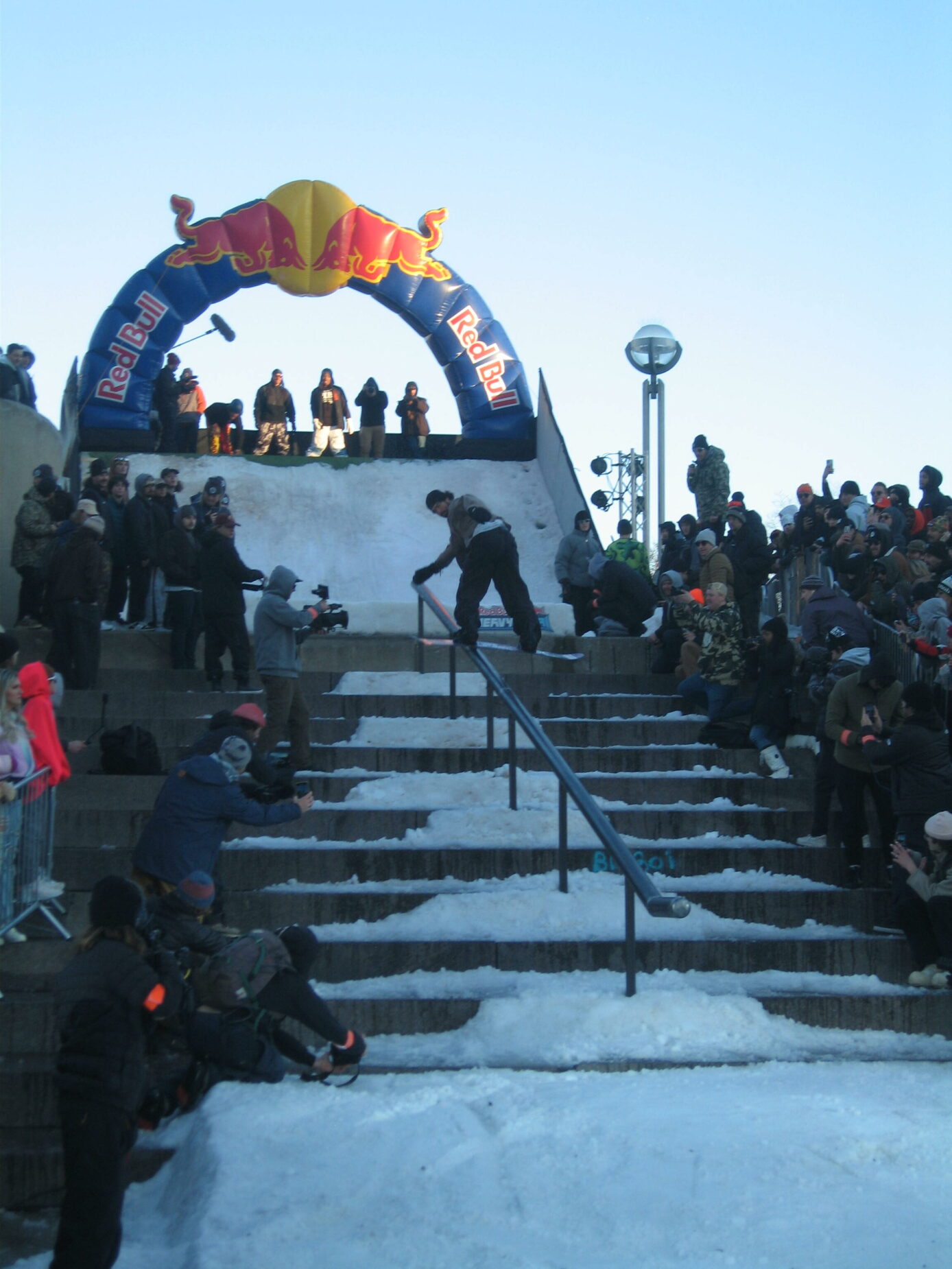 The final act is in the amphitheater: a thousand foot long down rail with 30 billion spectators circling around it. (What are numbers at this point, anyway?) Matt and I, and Krylan, our Smooth constituent whom we allocated our spare credential to, hop the gate and get front row. To go head first and dramatically derail this Motor City musical metaphor, let's just say that Heavy Metal went full Live Aid at Hart Plaza, enlisting the pinnacle of their patron performers. By that I mean that Irie went Stevie Wonder smooth on a front 270. Luke Winkleman turned to Bob Seger and the whole damn Silver Bullet Band with his barrage of tricks. Egan belted out her best Diana Ross via front 3 out. Denver went Iggy, covered in blood. RP joined D12 when he heard the "86" chant and let that nasty front flip hang all the way out. And at the end of it all, who got the mic for Detroit Rock City? That'd be Pat Fava. Show's over.
Get it? He won. RP, second. Winkleman, third.
Egan won women's. Jaylen, second. Maggie, third.
But you already knew that. And surely, by now, your hows have been answered with wows. I, on the other hand, having returned home safely, am left with some residual hows in my system.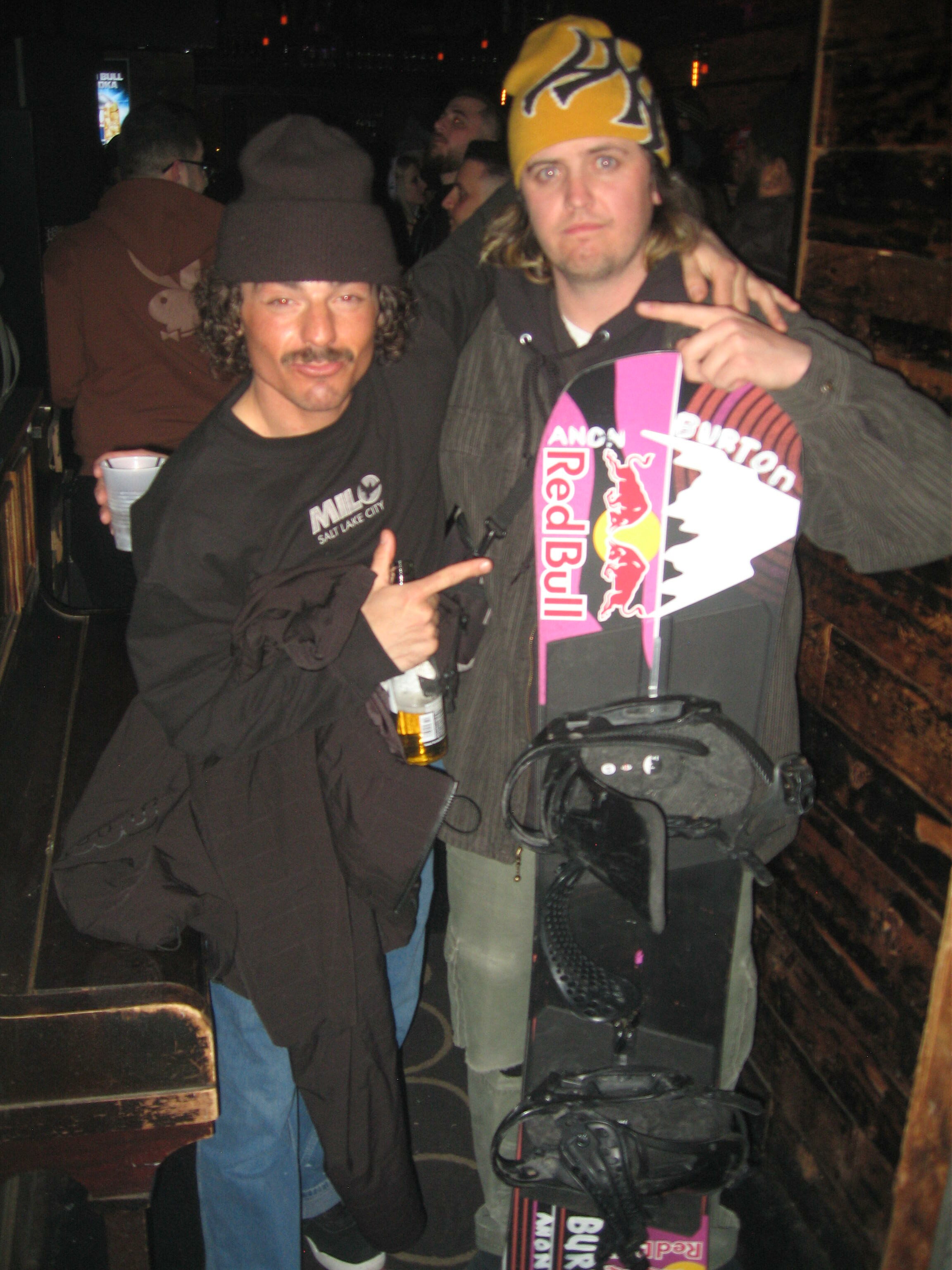 How did Matt and I end up smoking cigarettes in an orange basement beneath a nightclub at 2:30 in the morning in Downtown Detroit? How did the other Matt - Matt Dunn - turn a couple hundred feet of a hill into an uprising mecca for youthful Michiganders? How did Joe Sexton become chief of security? How did Ryan Paul's unnecessarily legendary 2nd place 10% bar-tab fall nearly exclusively on me? Furthermore, how did I pick Heinekens as the sole means of depleting it? And how am I writing this with Zeb Powell's Red Bull bucket hat on my head?
I answer all those with a thank you to Grace, Red Bull, and the city of Detroit.
P.S. Zeb, if you're reading this, I made a mistake. I'd like to return your hat to you. Please check your DMs.

Photography by: Red Bull Content Pool