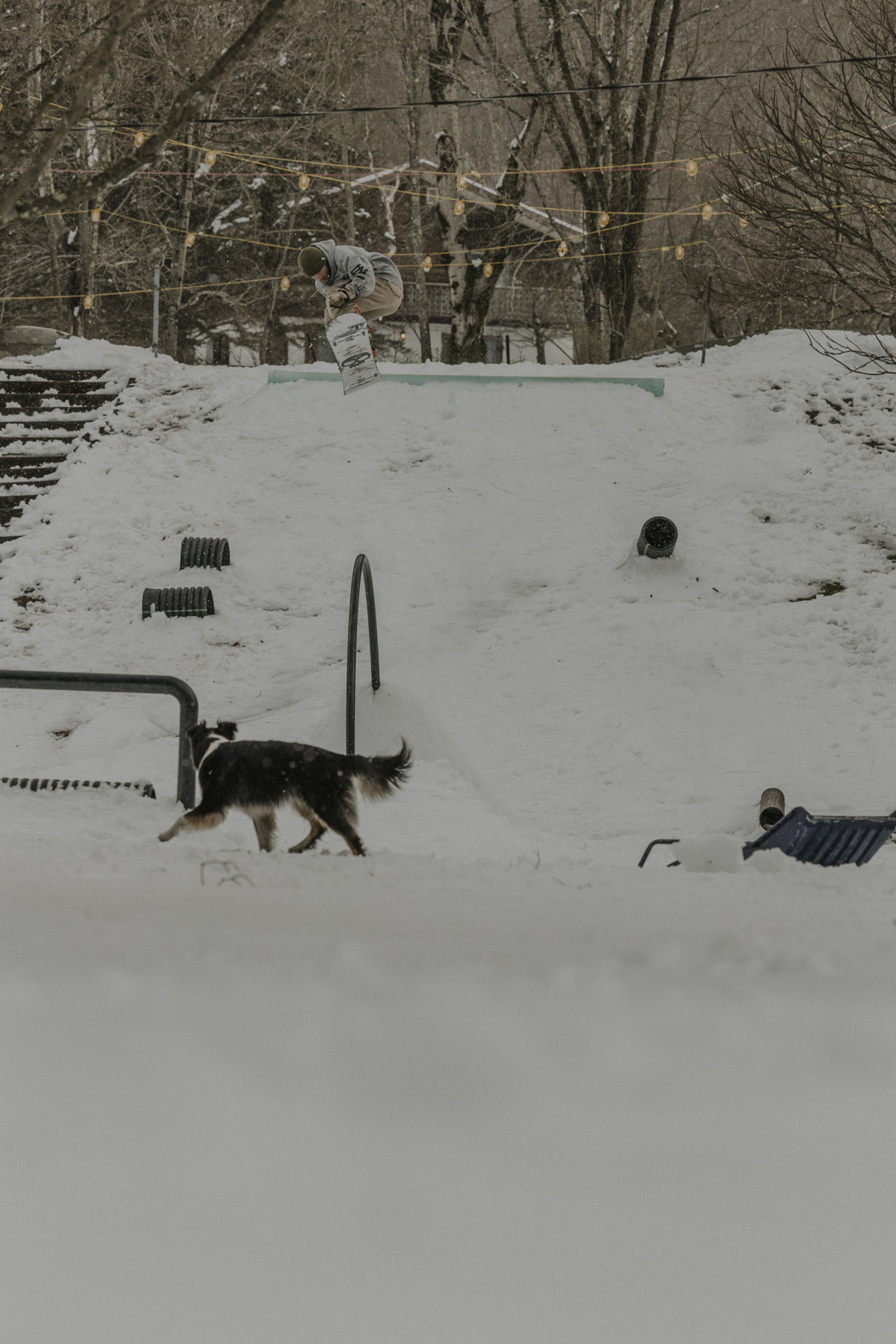 April Showers
Windham, NY
On April 19th, 2022 winter decided to come back to the Catskills of New York. It brought with it up to a foot of snow in the elevated areas while pouring rain in the valley below. Johnny O'Connor had put the word out to have a backyard meet-up if the snowfall was sufficient—and by morning it sure was. Consider it the luck of the Irish or Old Uncle Fester's Adirondack spirit brought down to the Catskills by John Haynes himself. The April Showers brought perfectly packable cement snow to the yard and some big hearted vibes to go along with it.  
Winter was resurrected, but so was the ultra positive jib lord himself Mr. John Haynes—the beloved ICKS family member who was in a traumatic riding accident, suffering complications due to a head injury in 2018. He's been on a mental and physical comeback ever since, and with the angelic and gracious love and support from his now wife Maris, as well as his family and lifelong friends, John truly is back in business. Haynes kept telling us he brought this snow down from the Adirondacks for us all, as usual, and was back to being the hype machine he always was and is. Big smile after big smile, hike by hike, laugh after laugh, feature by feature, you could see his baby-steps back to full-on jib mode. Relying on his muscle memory and big heart to remember what simple fun and powerful healing snowboarding can be for one's soul—it was a reminder for us all.
This storm was one for the books as it blew in the core of the Ice Coast family. Johnny O, Matt Sorrano, John Haynes, Joey B, Jasper Kahn, and the seaworthy Captain Sean Callaghan came together with the collective spirit to embrace the spring break pile-up. The simplicity of the yard park and the ever-flowing change of features makes it so unique. If you're feeling something, build it, one by one, and eventually it's a full on park session with lines abound. Johnny's backyard oasis is truly a dream and the energy is going strong. The Windham Mountain Inn certainly is snowboarding in its purest state. Not to mention there's a perfect KAHNcrete bowl at the top of the hill too. Stand sideways, hug your friends, keep it simple, and be part of the heart.
Be sure to check out @icecoastkillsshit on Instagram and support the East.